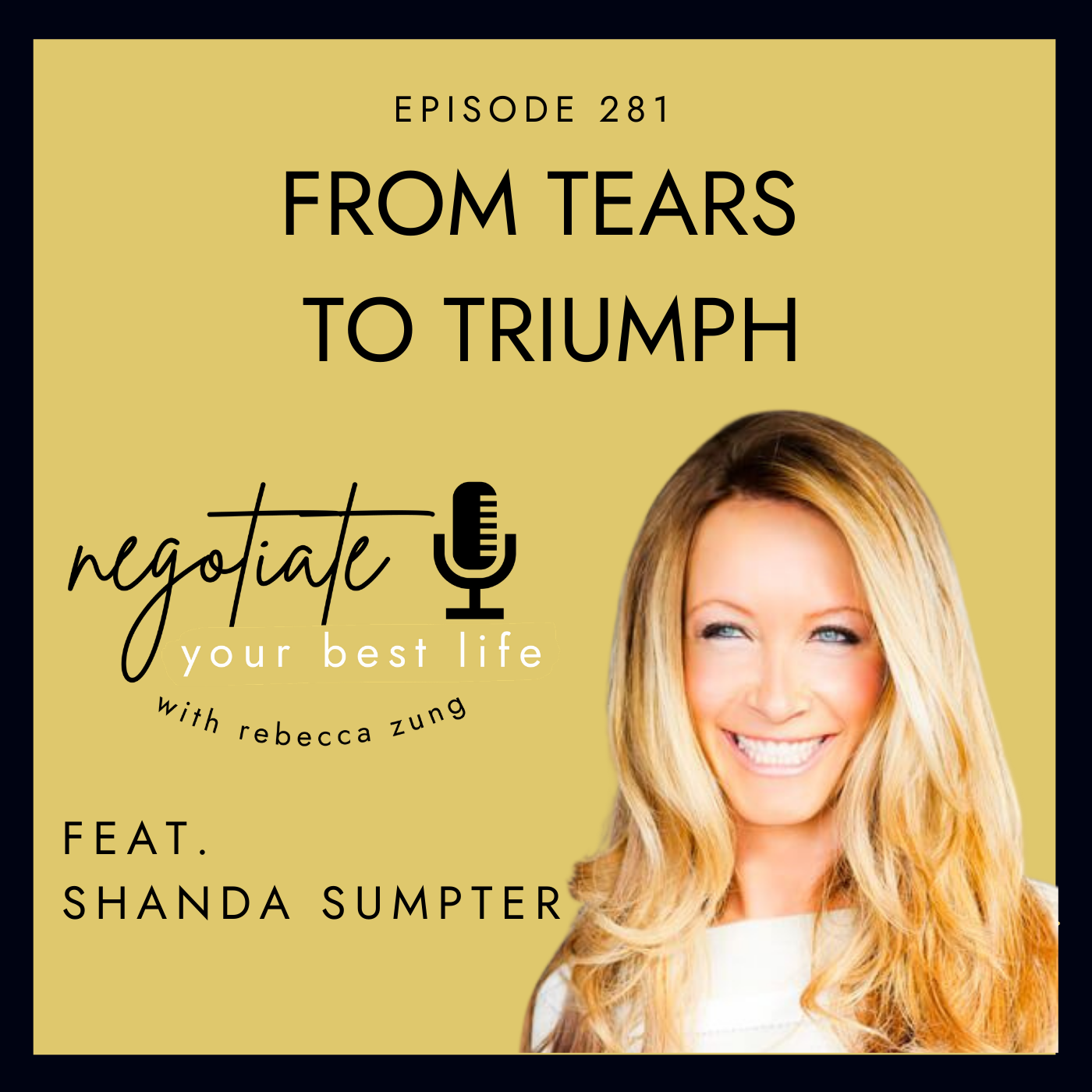 Shanda Sumpter went from having $500 in her pocket to running at 8 figure, multimillion dollar company that actually has a heart and a soul.   She has fierce passion but has endured tears, difficulty, and has navigated the hardest that life has thrown at her to get where she is today.   In this conversation with Rebecca, Shanda gets real, raw and is even funny while she authentically shares exactly how to get from wherever you are now to where you want to go.  She provides ideas that you can start using today regardless of how much money you have or the toxic situation you are in, you can break free. Shanda has cleared the path for you.  Listen in and find out how she did it, and how you can too.  
Shanda Sumpter is the Queen Visionary of HeartCore Business – a training company on the brink of hitting eight figures designed to give entrepreneurs the powerful systems they can use to share their gift and use those gifts to create profitable, sustainable businesses.
Today, Shanda is a dynamic speaker, trainer, and business coach, as well as a bestselling author and owner of a multi-million-dollar business and a wife and mom with plenty of time for family, self-development, hobbies, and rest. She lives in a beautiful house on the ocean, and loves her life!
It's Shanda's mission to give entrepreneurs the step-by-step systems they need to launch and grow their businesses – and transform their financial lives and the world.
She's experienced her own journey from struggle to triumph: there was a time when she had only $500 to her name and was facing the prospect of moving back home to her parents' house in Canada.
She knew then that it was time to make a change. So she hired a mentor.. and that became the catalyst for a domino effect of miracles that set the stage for HeartCore Business and its evolution into a multi-million-dollar company.
Visit Shanda at https://www.heartcorebusiness.com/.
Grab Tiny Habits right here  https://amzn.to/3wXsXAV
Grab The Passion Translation right here:  https://amzn.to/3xOK33T 
_______________________________________________________________________________________
THIS WEEK'S SPONSOR INFORMATION:  
Grab the New York Times Bestseller, The Lost and Found Bookshop by Susan Wiggs (published by Harper Collins) right here  http://aps.harpercollins.com/advt?isbn=9780062914118&retailer=harpercollins&locale=US
After her mother's death, Natalie Harper inherits a charming but financially strapped bookshop in San Francisco, and becomes caretaker for her ailing grandfather. Books provide welcome solace for her grief and struggle.
People magazine calls the book "A feel-good family saga… A charming tale about the silver linings of unwanted detours."
Perfect for readers of Jennifer Weiner, Emily Henry, Elin Hilderbrand, Amanda Eyre Ward, Jojo Moyes
This is a great pick for book clubs and also really great to enjoy poolside, on the beach, at the lake, on vacation, etc.
This is a novel that book lovers will LOVE– it's the perfect feel-good summer read!
_____________________________________________________________________________________
Soberlink is a comprehensive alcohol monitoring system. Combining a breathalyzer with wireless connectivity, Soberlink automatically documents proof of sobriety in real-time, which gives clients a sense of accomplishment while rebuilding trust with others.
Features
Adaptive Facial Recognition technology
Technology to detect physical tampers
Real-time text message reminders and Alerts
Customizable scheduling
Automated reporting options
Get an exclusive $50 off your device by emailing info@soberlink.com and mentioning Negotiate Your Best Life
____________________________________________________________________
For more information on REBECCA ZUNG, ESQ. visit her website www.rebeccazung.com and follow her on Instagram: @rebeccazung and YouTube!
GRAB YOUR FREE CRUSH MY NEGOTIATION PREP WORKSHEET RIGHT HERE! 
SUBSCRIBE TO MY YOUTUBE CHANNEL RIGHT HERE. 
Grab a copy of Rebecca's book, Negotiate Like You M.A.T.T.E.R.: The Sure Fire Method to Step Up and Win (foreword written by Robert Shapiro).   It went straight to being a #1 bestseller the first day it was launched!  Find out what everyone is so excited about - get the book RIGHT HERE! 
To get your copy of Rebecca's bestselling book, Breaking Free: A Step by Step Guide to Achieving Emotional, Physical and Spiritual Freedom, please visit the Amazon website to order it RIGHT HERE.