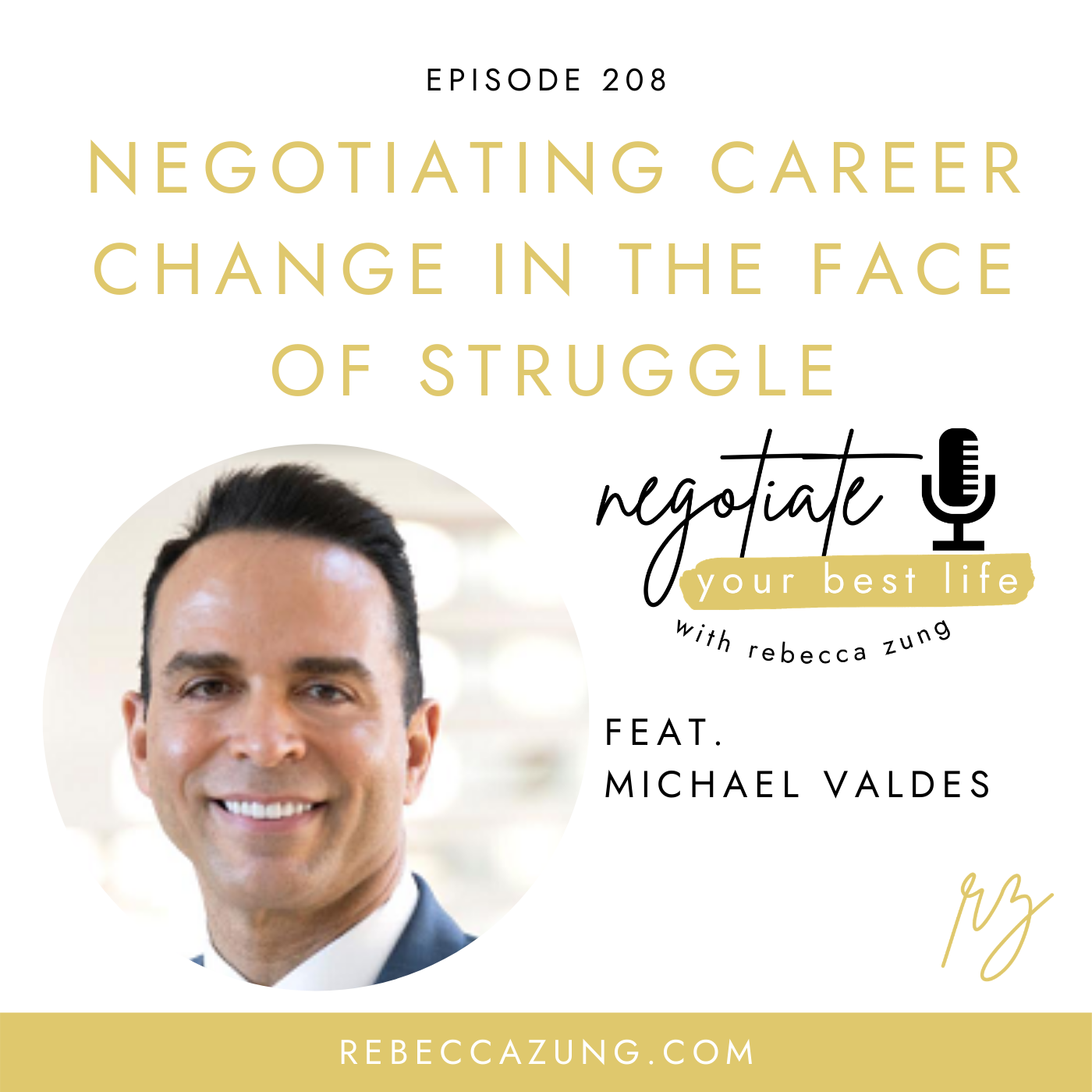 Are you thinking about changing careers?   Unhappy in your current one or maybe due to divorce, you're having to think about going back to work?   Michael has been through it all.   Cancer, market crashes, and more.   While he stumbled, he got back up and figured out how to get back to the top of his game.   He also discusses how to handle the sale of a house in divorce and the emotions that go along with that.   Come along for this wild ride this week as our host, Rebecca Zung, Esq., gets real with one of the country's most powerful people in real estate.   
More about Michael Valdes.   
Michael is the Senior Vice President for Global Servicing for Realogy.   In his current role, Valdes oversees the international servicing platform for all Realogy brands, including Better Homes and Gardens® Real Estate, CENTURY 21®, Coldwell Banker®, Corcoran®, ERA® and Sotheby's International Realty® across 113 countries. A member of AREAA since 2014, Valdes leverages his experience to create strategies for increasing membership, expand opportunities for AREAA Global members, and advise on strategies to attract additional corporate supporters and advisors. Valdes will also serve as co-chair of the 2020 AREAA Global and Luxury Summit taking place this spring at the Four Seasons in Chicago.  He is also the host of the Global Luxury Real Estate Mastermind Podcast.  
LISTEN AND SUBSCRIBE TO MICHAEL'S PODCAST RIGHT HERE.  
_____________________________________________________________________________________
THIS WEEK'S SPONSOR INFORMATION:  
For more information from our Sponsor BetterHelp.com Online Counseling, offering convenient and private online access to licensed therapists from the comfort of your own home, visit www.betterhelp.com/breakingfree  Listeners of the podcast will receive 10% off on their first month of counseling with discount code "BREAKINGFREE"!
______________________________________________________________________________________
For more information on REBECCA ZUNG, ESQ. visit her website www.rebeccazung.com and follow her on Instagram: @rebeccazung and YouTube!
GRAB YOUR FREE CRUSH MY NEGOTIATION PREP WORKSHEET RIGHT HERE! 
SUBSCRIBE TO MY YOUTUBE CHANNEL RIGHT HERE. 
HOT NEWS!  Make sure to grab a copy of Rebecca'a BRAND NEW BOOK, Negotiate Like You M.A.T.T.E.R.: The Sure Fire Method to Step Up and Win (foreword written by Robert Shapiro).   It went straight to being a #1 bestseller the first day it was launched!  Find out what everyone is so excited about - get the book RIGHT HERE! 
To get your copy of Rebecca's bestselling book, Breaking Free: A Step by Step Guide to Achieving Emotional, Physical and Spiritual Freedom, please visit the Amazon website to order it RIGHT HERE.   
Rebecca also is available for keynote speeches, and speaks around the country on "How to Successfully Negotiate With a High Conflict Personality" and "Win Any Negotiation in Just 6 Steps".
****************************************************************
CONTACT US:  rebecca@rebeccazung.com
WEBSITE:   www.negotiateyourbestlifepodcast.com
........................................................................................................................
Remember to follow THE NEGOTIATE YOUR BEST LIFE PODCAST on social media for updates and inside tips and information:
Finally, we'd really appreciate it if you would visit iTunes and give us a 5 Star Rating and tell us what you like about the show - your feedback really matters 
DISCLAIMER:  THE COMMENTARY AND OPINIONS AVAILABLE ON THIS PODCAST ARE FOR INFORMATIONAL PURPOSES ONLY AND NOT FOR THE PURPOSE OF PROVIDING LEGAL ADVICE.  YOU SHOULD CONTACT AN ATTORNEY IN YOUR STATE TO OBTAIN LEGAL ADVICE WITH RESPECT TO ANY PARTICULAR ISSUE OR PROBLEM.