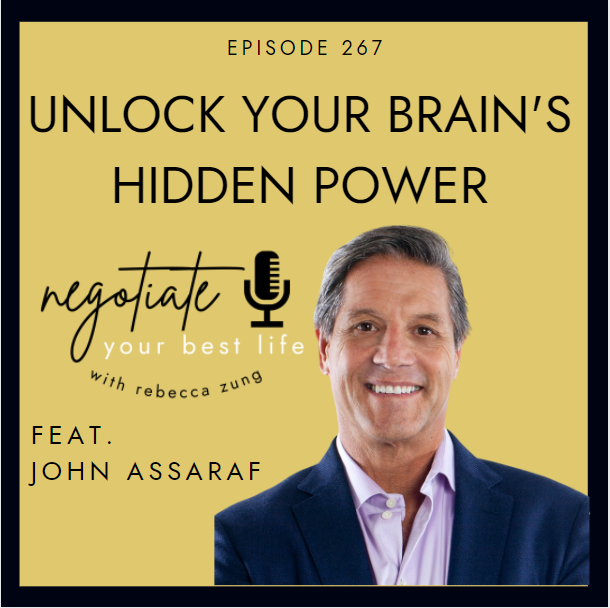 Are you negotiating with a narcissist and ready to harness the power of your brain to deal with them in the most effective and persuasive way possible?   John Assaraf, who is one of the top brain experts in the world, is in the house in this episode and is sharing all of this secrets on how to unlock your brain's hidden power and get everything you want.   In this episode, he shares:
* how to use neuroscience to master change instead of managing disappointment
* how he went from a high school drop out to creating several multimillion dollar businesses and being featured in "The Secret" and more. 
* how to remove roadblocks by unlocking your brain's hidden power
* how to achieve your goals and dreams
More About John Assaraf
Wildly successful serial entrepreneur.   Built multimillion dollar companies.  Multiple time NYT bestselling author of Innercise, The Answer and Having It All.   Widely considered one of the leading brain researcher, and behavioral and mindset experts in the world.   Featured in The Secret along with many other movies and has been featured on CNN.   
_______________________________________________________________________________________________________
THIS WEEK'S SPONSOR INFORMATION:  
Soberlink is a comprehensive alcohol monitoring system. Combining a breathalyzer with wireless connectivity, Soberlink automatically documents proof of sobriety in real-time, which gives clients a sense of accomplishment while rebuilding trust with others.
Features
Adaptive Facial Recognition technology
Technology to detect physical tampers
Real-time text message reminders and Alerts
Customizable scheduling
Automated reporting options
Get an exclusive $50 off your device by emailing info@soberlink.com and mentioning Negotiate Your Best Life
____________________________________________________________________
For more information on REBECCA ZUNG, ESQ. visit her website www.rebeccazung.com and follow her on Instagram: @rebeccazung and YouTube!
GRAB YOUR FREE CRUSH MY NEGOTIATION PREP WORKSHEET RIGHT HERE! 
SUBSCRIBE TO MY YOUTUBE CHANNEL RIGHT HERE. 
Grab a copy of Rebecca's book, Negotiate Like You M.A.T.T.E.R.: The Sure Fire Method to Step Up and Win (foreword written by Robert Shapiro).   It went straight to being a #1 bestseller the first day it was launched!  Find out what everyone is so excited about - get the book RIGHT HERE! 
To get your copy of Rebecca's bestselling book, Breaking Free: A Step by Step Guide to Achieving Emotional, Physical and Spiritual Freedom, please visit the Amazon website to order it RIGHT HERE.   
_______________________________________________________________________________________________________________
CONTACT US:  rebecca@rebeccazung.com
WEBSITE:   www.rebeccazung.com
........................................................................................................................
Remember to follow THE NEGOTIATE YOUR BEST LIFE PODCAST on social media for updates and inside tips and information:
Finally, we'd really appreciate it if you would visit iTunes and give us a 5 Star Rating and tell us what you like about the show - your feedback really matters 
DISCLAIMER:  THE COMMENTARY AND OPINIONS AVAILABLE ON THIS PODCAST ARE FOR INFORMATIONAL PURPOSES ONLY AND NOT FOR THE PURPOSE OF PROVIDING LEGAL ADVICE.  YOU SHOULD CONTACT AN ATTORNEY IN YOUR STATE TO OBTAIN LEGAL ADVICE WITH RESPECT TO ANY PARTICULAR ISSUE OR PROBLEM.