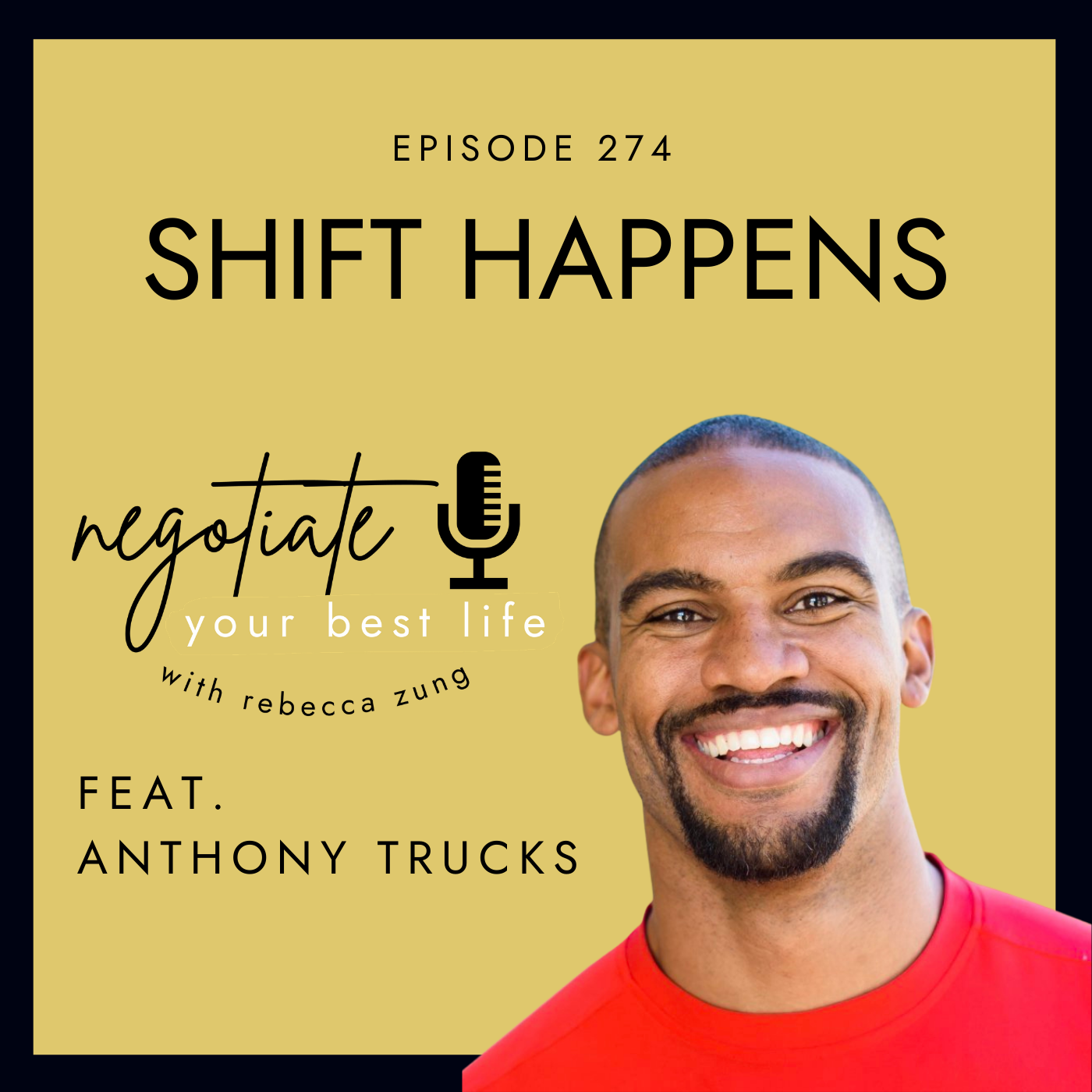 Life give us wins and life gives us losses.  But sometimes it seems like we get more than our fair share of losses.   Anthony Trucks knows all about that.  He's survived foster care, losing his career in the NFL and so much more and has lived to tell about it all.  More importantly, he's figured out a formula on how to take the worst things in your life and turn them into the best things that have ever happened to you.   He's sharing it all in this episode - including: 
1) What was it like growing up in foster care?
2) What happened after he left the NFL?
3) What's it like being remarried to his ex wife?
4) How has he navigated so many different shifts in your identity?
5) What is The Shift Method?
Are you ready to shift?  You've got narcissists you're dealing with in your life and want to change what it all looks like now?  Okay then tune in and let's do this!  
Anthony Trucks is a former NFL Athlete, American Ninja Warrior on NBC, international speaker, host of the Aww Shift podcast, and the founder of Identity Shift coaching. He uses cutting edge science and psychology to upgrade how you operate so you can elevate your life and business to reach your full potential. After being given away into foster care at 3 years old, being adopted into an all white family at 14, losing his NFL career to injury and more he learned how to shift at a very young age, and now his life mission is teaching others how to Make Shift Happen in their lives.
Anthony Trucks is a foster kid turned NFL athlete and serial entrepreneur with one serious super power. Making Shift Happen, no matter what, by accessing the power of identity. After overcoming over 30+ traumatic life events, and navigating the identity shifts that followed, Anthony has come to be known as the leading expert in "Shifting". Which is making a shift internally, to elevate how you operate externally, which in turn changes your life. With his unique system  called "The Shift Method", Anthony weaves together neuroscience, psychology, technology, and hard fought life lessons to help anyone with a desire for more  in their life achieve any goal they want, or have ever wanted. Before making it apparent their goals were actually set far below their true potential in the first place. Buckle up, It's time to Make Shift Happen.
_______________________________________________________________________________________
THIS WEEK'S SPONSOR INFORMATION:  
Soberlink is a comprehensive alcohol monitoring system. Combining a breathalyzer with wireless connectivity, Soberlink automatically documents proof of sobriety in real-time, which gives clients a sense of accomplishment while rebuilding trust with others.
Features
Adaptive Facial Recognition technology
Technology to detect physical tampers
Real-time text message reminders and Alerts
Customizable scheduling
Automated reporting options
Get an exclusive $50 off your device by emailing info@soberlink.com and mentioning Negotiate Your Best Life
____________________________________________________________________
For more information on REBECCA ZUNG, ESQ. visit her website www.rebeccazung.com and follow her on Instagram: @rebeccazung and YouTube!
GRAB YOUR FREE CRUSH MY NEGOTIATION PREP WORKSHEET RIGHT HERE! 
SUBSCRIBE TO MY YOUTUBE CHANNEL RIGHT HERE. 
Grab a copy of Rebecca's book, Negotiate Like You M.A.T.T.E.R.: The Sure Fire Method to Step Up and Win (foreword written by Robert Shapiro).   It went straight to being a #1 bestseller the first day it was launched!  Find out what everyone is so excited about - get the book RIGHT HERE! 
To get your copy of Rebecca's bestselling book, Breaking Free: A Step by Step Guide to Achieving Emotional, Physical and Spiritual Freedom, please visit the Amazon website to order it RIGHT HERE.   
...................................................
Remember to follow THE NEGOTIATE YOUR BEST LIFE PODCAST on social media for updates and inside tips and information:
Finally, we'd really appreciate it if you would visit iTunes and give us a 5 Star Rating and tell us what you like about the show - your feedback really matters 
DISCLAIMER:  THE COMMENTARY AND OPINIONS AVAILABLE ON THIS PODCAST ARE FOR INFORMATIONAL PURPOSES ONLY AND NOT FOR THE PURPOSE OF PROVIDING LEGAL ADVICE.  YOU SHOULD CONTACT AN ATTORNEY IN YOUR STATE TO OBTAIN LEGAL ADVICE WITH RESPECT TO ANY PARTICULAR ISSUE OR PROBLEM.