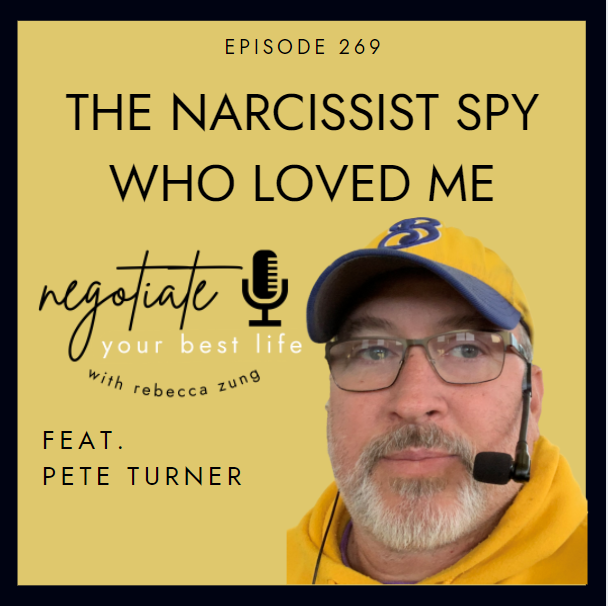 Have you ever wondered how those guys in the military develop trust and relationships with terrorists?   How can they negotiate with them and actually get them to give in on things?  In this episode, former Army combat spy, Pete Turner is breaking it all down.   He spills all the secrets including: 
- how to imperceptibly control conversations
- how to create value when it's dangerous to trust 
- leveraging situations to achieve your goals
- linking tactics to your strategies 
- why narcissists are actually useful patsies
If you're negotiating with narcissists or high conflict, difficult people, this is the episode for you.  Tune in for ways to get narcissists off their positions and closer to yours, and to find out how to cool down negotiations when the temperatures get red hot! 
Pete A Turner is a former Army combat spy with over 1000 missions in conflict zones in a variety of countries, like Bosnia, Egypt, Iraq and Afghanistan. His daily missions took him off-camp and out to find the people, information and secrets that enabled commanders to win. Ultimately, Pete succeeded because he learned to earn the trust of the most dangerous and evil people in the region. This trust allowed Pete unique access to the "Ground Truth" illustrating the realities that exist below the tactical level.
Today, Pete uses his "Ground Truth" focused collection techniques on the Break It Down Show https://www.breakitdownshow.com/  (BIDS). BIDS illustrates life through the experiences of fascinating people. With over 900 episodes, his show is a leader in the veteran creative space. He is also the creator of the Prison Chronicles, an 8-part limited series from the Break It Down Show.
As a media consultant focused on podcast, Pete helps people, projects and companies get the most out of their podcasting goals. His professional services include Executive Producer, Consultant and media-host training. For more on Pete, or to inquire about his services, email to pete@breakitdowshow.com
Pete has authored and published several peer-reviewed articles focused on aspects of modern conflict. He is a recognized expert on modern combat, culture and international relations. 
_______________________________________________________________________________________
THIS WEEK'S SPONSOR INFORMATION:  
Soberlink is a comprehensive alcohol monitoring system. Combining a breathalyzer with wireless connectivity, Soberlink automatically documents proof of sobriety in real-time, which gives clients a sense of accomplishment while rebuilding trust with others.
Features
Adaptive Facial Recognition technology
Technology to detect physical tampers
Real-time text message reminders and Alerts
Customizable scheduling
Automated reporting options
Get an exclusive $50 off your device by emailing info@soberlink.com and mentioning Negotiate Your Best Life
____________________________________________________________________
For more information on REBECCA ZUNG, ESQ. visit her website www.rebeccazung.com and follow her on Instagram: @rebeccazung and YouTube!
GRAB YOUR FREE CRUSH MY NEGOTIATION PREP WORKSHEET RIGHT HERE! 
SUBSCRIBE TO MY YOUTUBE CHANNEL RIGHT HERE. 
Grab a copy of Rebecca's book, Negotiate Like You M.A.T.T.E.R.: The Sure Fire Method to Step Up and Win (foreword written by Robert Shapiro).   It went straight to being a #1 bestseller the first day it was launched!  Find out what everyone is so excited about - get the book RIGHT HERE! 
To get your copy of Rebecca's bestselling book, Breaking Free: A Step by Step Guide to Achieving Emotional, Physical and Spiritual Freedom, please visit the Amazon website to order it RIGHT HERE.   
_______________________________________________________________________________________________________________
CONTACT US:  rebecca@rebeccazung.com
WEBSITE:   www.rebeccazung.com
........................................................................................................................
Remember to follow THE NEGOTIATE YOUR BEST LIFE PODCAST on social media for updates and inside tips and information:
Finally, we'd really appreciate it if you would visit iTunes and give us a 5 Star Rating and tell us what you like about the show - your feedback really matters 
DISCLAIMER:  THE COMMENTARY AND OPINIONS AVAILABLE ON THIS PODCAST ARE FOR INFORMATIONAL PURPOSES ONLY AND NOT FOR THE PURPOSE OF PROVIDING LEGAL ADVICE.  YOU SHOULD CONTACT AN ATTORNEY IN YOUR STATE TO OBTAIN LEGAL ADVICE WITH RESPECT TO ANY PARTICULAR ISSUE OR PROBLEM.