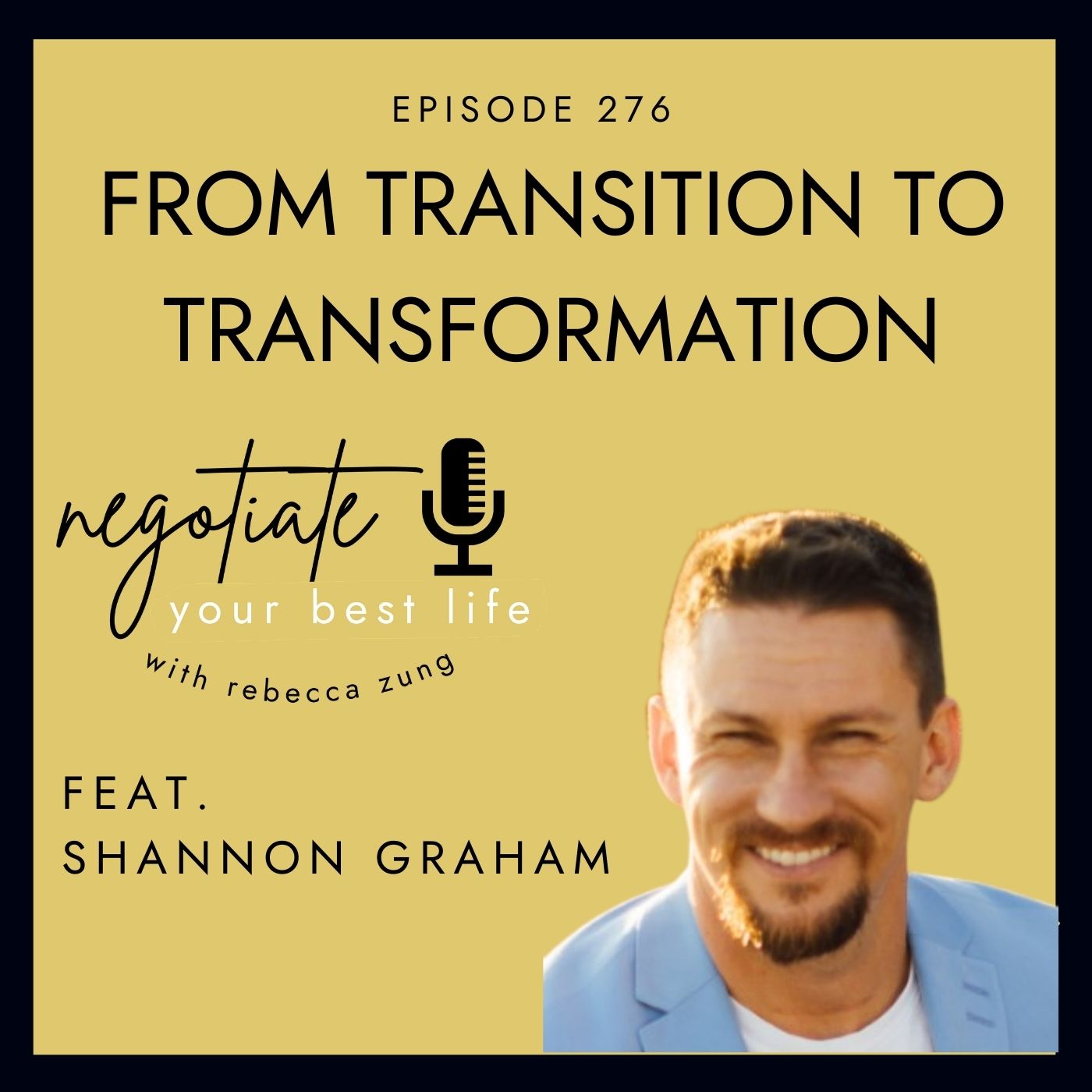 Do you feel like you are meant for more but not sure how to get there?  Maybe you're making big transitions and changes in your life and it is super scary to figure out how to use this as an opportunity for transformation.  If you're struggling with toxic people or narcissists in your life and you just feel like you are being held back but not sure what steps to take or how to take control of your life, then tune in to this episode.   Shannon Graham went from being homeless and suicidal to coaching some of the most powerful people in the world.    He shares exactly how he did it and how you can do it too in this powerful episode.   
Shannon Graham is the world's top for visionary leaders who want to change the world by doing the impossible. His work has done everything from raise the GDP of an entire country, revolutionizing immigration, and helping end video game addiction.  Through his work he aims to create an unprecedented civilization where the world enjoys more peace prosperity and expansion.  More about Shannon right here:  https://www.shannongraham.com/ 
Grab Shannon's book: Expand: Leadership That Moves, Fulfills and Changes the World right here https://amzn.to/34uScy1
Follow Shannon on Instagram:  @askshannongraham 
_______________________________________________________________________________________
THIS WEEK'S SPONSOR INFORMATION:  
Soberlink is a comprehensive alcohol monitoring system. Combining a breathalyzer with wireless connectivity, Soberlink automatically documents proof of sobriety in real-time, which gives clients a sense of accomplishment while rebuilding trust with others.
Features
Adaptive Facial Recognition technology
Technology to detect physical tampers
Real-time text message reminders and Alerts
Customizable scheduling
Automated reporting options
Get an exclusive $50 off your device by emailing info@soberlink.com and mentioning Negotiate Your Best Life
____________________________________________________________________
For more information on REBECCA ZUNG, ESQ. visit her website www.rebeccazung.com and follow her on Instagram: @rebeccazung and YouTube!
GRAB YOUR FREE CRUSH MY NEGOTIATION PREP WORKSHEET RIGHT HERE! 
SUBSCRIBE TO MY YOUTUBE CHANNEL RIGHT HERE. 
Grab a copy of Rebecca's book, Negotiate Like You M.A.T.T.E.R.: The Sure Fire Method to Step Up and Win (foreword written by Robert Shapiro).   It went straight to being a #1 bestseller the first day it was launched!  Find out what everyone is so excited about - get the book RIGHT HERE! 
To get your copy of Rebecca's bestselling book, Breaking Free: A Step by Step Guide to Achieving Emotional, Physical and Spiritual Freedom, please visit the Amazon website to order it RIGHT HERE.  
........................................................................................................................
Remember to follow THE NEGOTIATE YOUR BEST LIFE PODCAST on social media for updates and inside tips and information:
Finally, we'd really appreciate it if you would visit iTunes and give us a 5 Star Rating and tell us what you like about the show - your feedback really matters 
DISCLAIMER:  THE COMMENTARY AND OPINIONS AVAILABLE ON THIS PODCAST ARE FOR INFORMATIONAL PURPOSES ONLY AND NOT FOR THE PURPOSE OF PROVIDING LEGAL ADVICE.  YOU SHOULD CONTACT AN ATTORNEY IN YOUR STATE TO OBTAIN LEGAL ADVICE WITH RESPECT TO ANY PARTICULAR ISSUE OR PROBLEM.