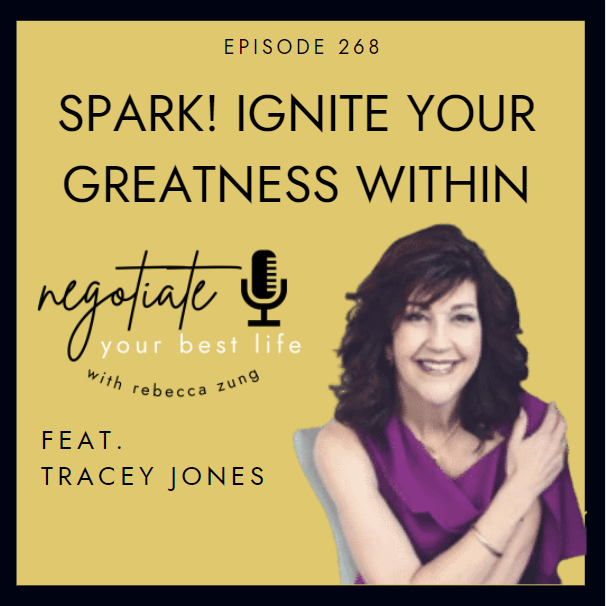 Are you ready to light your own fire?   So many of us feel stuck, anxious, sad, or beaten down by the world.   But you know that somewhere deep inside you that you were meant for so much more.   Regardless of how broken we feel, we were all born for greatness.   If you're dealing with narcissists, toxic people or people who are treating you unfairly, then you can sometimes feel like there is no way out.  In this super motivational episode, Dr. Tracey Jones lifts you up, energizes you and gives you that spark to ignite your fire!  
Dr. Tracey C. Jones is nationally known for her leadership expertise, as well as her ability to connect on a core level with her audiences . With her signature wit, she masterfully weaves leadership concepts and actionable strategies together with humor and a deep understanding of life. She challenges her audiences to bravely embrace their challenges and take the all-important next steps toward effecting meaningful change in their personal and professional lives.
She is a graduate of the Air Force Academy with twelve years as an officer in the United States Air Force. As a civilian, she built an impressive career as a corporate "fixer" over ten years with industry leaders such as Applied Materials and Northrup Grumman, as well as a stint as a Project Manager with the National Security Agency (NSA). A believer in the value of lifelong learning, Tracey holds her PhD in Leadership and an MBA in Global Management.
Her father, the late Charlie "Tremendous" Jones, founded Executive Books in 1965 with the goal of changing the world one book at a time. After amassing an exceptional leadership background of her own, Tracey took the company's reins in 2009 – and carries on her father's tremendous legacy today. She believes that philanthropy and community engagement are at the heart of leadership. The profits of Tremendous Leadership support The Tremendous Trust which has provided over $1.3 million in donations locally and globally over the last eight years.
Grab Tracey's book, SPARK:  5 Essentials to Ignite the Greatness Within, right here! 
_______________________________________________________________________________________
THIS WEEK'S SPONSOR INFORMATION:  
Soberlink is a comprehensive alcohol monitoring system. Combining a breathalyzer with wireless connectivity, Soberlink automatically documents proof of sobriety in real-time, which gives clients a sense of accomplishment while rebuilding trust with others.
Features
Adaptive Facial Recognition technology
Technology to detect physical tampers
Real-time text message reminders and Alerts
Customizable scheduling
Automated reporting options
Get an exclusive $50 off your device by emailing info@soberlink.com and mentioning Negotiate Your Best Life
____________________________________________________________________
For more information on REBECCA ZUNG, ESQ. visit her website www.rebeccazung.com and follow her on Instagram: @rebeccazung and YouTube!
GRAB YOUR FREE CRUSH MY NEGOTIATION PREP WORKSHEET RIGHT HERE! 
SUBSCRIBE TO MY YOUTUBE CHANNEL RIGHT HERE. 
Grab a copy of Rebecca's book, Negotiate Like You M.A.T.T.E.R.: The Sure Fire Method to Step Up and Win (foreword written by Robert Shapiro).   It went straight to being a #1 bestseller the first day it was launched!  Find out what everyone is so excited about - get the book RIGHT HERE! 
To get your copy of Rebecca's bestselling book, Breaking Free: A Step by Step Guide to Achieving Emotional, Physical and Spiritual Freedom, please visit the Amazon website to order it RIGHT HERE.   
_______________________________________________________________________________________________________________
CONTACT US:  rebecca@rebeccazung.com
WEBSITE:   www.rebeccazung.com
........................................................................................................................
Remember to follow THE NEGOTIATE YOUR BEST LIFE PODCAST on social media for updates and inside tips and information:
Finally, we'd really appreciate it if you would visit iTunes and give us a 5 Star Rating and tell us what you like about the show - your feedback really matters 
DISCLAIMER:  THE COMMENTARY AND OPINIONS AVAILABLE ON THIS PODCAST ARE FOR INFORMATIONAL PURPOSES ONLY AND NOT FOR THE PURPOSE OF PROVIDING LEGAL ADVICE.  YOU SHOULD CONTACT AN ATTORNEY IN YOUR STATE TO OBTAIN LEGAL ADVICE WITH RESPECT TO ANY PARTICULAR ISSUE OR PROBLEM.