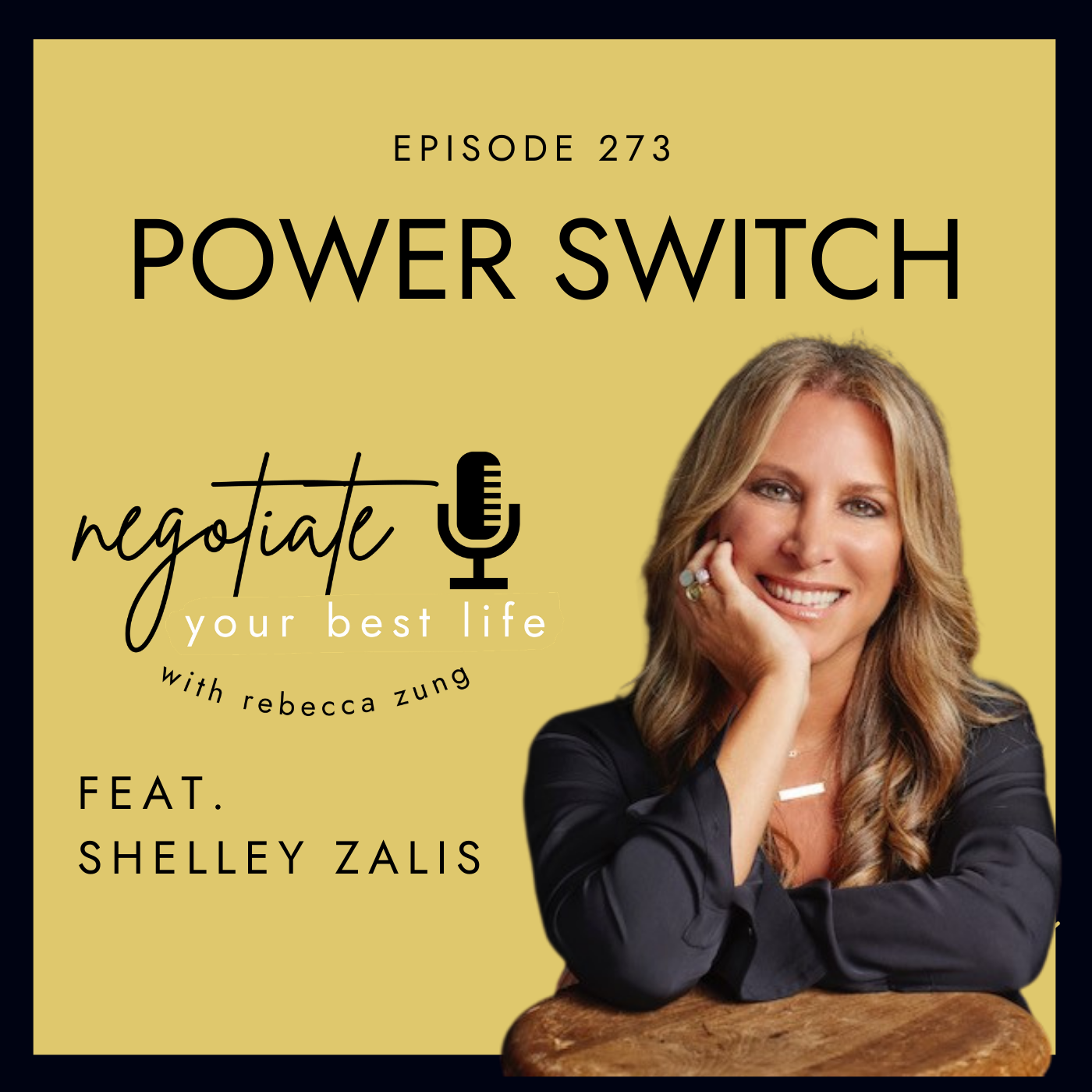 Negotiating when you feel the other person is more powerful seems impossible sometimes.  How do you turn it around when it seems like there is no way to win?   Shelley Zalis is a master at this.  In this episode she discusses: 
- what to do when you feel like the other side holds all the cards 
- how to create rapport with difficult people 
- how to get them to see your value 
- how to get them to respect you 
- finding your voice even when you don't have any confidence 
and so much more.   If you are negotiating with narcissists or high conflict or difficult people, this episode is a must listen for you.  Grab your pad and pen and get ready to take notes from one of the masters! 
CEO, The Female Quotient
Shelley Zalis, known as the "chief troublemaker," is a pioneer for online research, movement leader, and champion of gender equality. She is an internationally renowned entrepreneur, speaker, mentor, mother, and founder and CEO of The Female Quotient.
Zalis rewrites the rules and innovates solutions to impact real change. In 2000, she left the corporate world to found OTX (Online Testing Exchange), which became one of the fastest growing research companies in the world. She sold OTX to Ipsos in 2010, and then led global innovation in more than 80 countries at Ipsos OTX.
Today, as CEO of The Female Quotient, Zalis works with Fortune 500 companies to advance gender equality across industries. The FQ's signature pop-up experience, the FQ Lounge (formerly the Girls' Lounge), brings a Home of Equality to major conferences, companies, and college campuses around the world. The FQ Lounge is the gathering place for leaders of all levels at events such as the World Economic Forum, Cannes Lions, Consumer Electronics Show and the Milken Institute Global Conference. Through the destination-turned-movement, Zalis has connected more than 18,000 women in business and created the largest female-led community to transform workplace culture.
Zalis is an acclaimed speaker and member of the Washington Speakers Bureau. She is also a dynamic moderator who has interviewed influencers and leaders such as Katie Couric, Ólafur Ragnar Grímsson, Arianna Huffington, Gwyneth Paltrow, Halle Berry, Reese Witherspoon, and David Schwimmer. Zalis authors a Forbes column that provides advice for women in the messy middle (middle management). She is the co-founder of #SeeHer, a movement led by the Association of National Advertisers (ANA) to increase the accurate portrayal of women and girls in advertising and media. Zalis is also on the Board of Directors for MAKERS, ColorComm and Dress for Success.
A firm believer in giving back with generosity, Zalis is not only a mentor to women around the world, but also provides time and resources to educating girls in countries such as Rwanda. She has been awarded the Ernst & Young Entrepreneur of the Year Award, Global Marketing Leadership Award, ARF Great Minds in Innovation Award, AWNY's Game Changer Award, and the Matrix Award.
You can follow Zalis on Twitter, LinkedIn, Instagram, and Facebook. 
_______________________________________________________________________________________
THIS WEEK'S SPONSOR INFORMATION:  
Soberlink is a comprehensive alcohol monitoring system. Combining a breathalyzer with wireless connectivity, Soberlink automatically documents proof of sobriety in real-time, which gives clients a sense of accomplishment while rebuilding trust with others.
Features
Adaptive Facial Recognition technology
Technology to detect physical tampers
Real-time text message reminders and Alerts
Customizable scheduling
Automated reporting options
Get an exclusive $50 off your device by emailing info@soberlink.com and mentioning Negotiate Your Best Life
____________________________________________________________________
For more information on REBECCA ZUNG, ESQ. visit her website www.rebeccazung.com and follow her on Instagram: @rebeccazung and YouTube!
GRAB YOUR FREE CRUSH MY NEGOTIATION PREP WORKSHEET RIGHT HERE! 
SUBSCRIBE TO MY YOUTUBE CHANNEL RIGHT HERE. 
Grab a copy of Rebecca's book, Negotiate Like You M.A.T.T.E.R.: The Sure Fire Method to Step Up and Win (foreword written by Robert Shapiro).   It went straight to being a #1 bestseller the first day it was launched!  Find out what everyone is so excited about - get the book RIGHT HERE! 
To get your copy of Rebecca's bestselling book, Breaking Free: A Step by Step Guide to Achieving Emotional, Physical and Spiritual Freedom, please visit the Amazon website to order it RIGHT HERE.  
........................................................................................................................
Remember to follow THE NEGOTIATE YOUR BEST LIFE PODCAST on social media for updates and inside tips and information:
Finally, we'd really appreciate it if you would visit iTunes and give us a 5 Star Rating and tell us what you like about the show - your feedback really matters 
DISCLAIMER:  THE COMMENTARY AND OPINIONS AVAILABLE ON THIS PODCAST ARE FOR INFORMATIONAL PURPOSES ONLY AND NOT FOR THE PURPOSE OF PROVIDING LEGAL ADVICE.  YOU SHOULD CONTACT AN ATTORNEY IN YOUR STATE TO OBTAIN LEGAL ADVICE WITH RESPECT TO ANY PARTICULAR ISSUE OR PROBLEM.